Hong Kong Education City (EdCity) is always committed to cultivating reading culture, and its 'eRead Scheme' provides yearly subscription of eBooks to facilitate schools in promoting extensive reading. Under the scheme, EdCity provides over 2,000 quality eBooks covering Chinese and English titles in various categories and levels by collaborating with about 50 local and overseas publishers.
The 2021/22 'eRead Scheme' service is now launched. Schools can subscribe to the reading package with the flexibility in choosing the number and type of ebooks that fits their school needs. With the school subscription to the reading packages at minimal cost, students and teachers can enjoy unlimited access to the selected eBooks at EdBookShelf (supporting Android, iOS and web browser). Teachers can also learn about the reading habits of each student by viewing the reading data provided by the platform to develop reading strategies in school. For more details, please refer to the User Guide.
Besides the paid packages, EdCity has worked with organisations such as the Education Bureau and the Quality Education Fund to provide free reading packages including 'Chinalane', 'NET Series', 'English Classic Series', 'Chinese Classics', 'Modern Chinese Authors Series'and 'School-based Free Reading Package' for schools to subscribe.
Teachers may watch the sharing of representatives from Secondary schools or Primary schools to learn more about promoting reading in schools.
For any queries, please contact us on 2624 1000 or info@edcity.hk.
Objectives
Provide a wide range of quality eBooks for schools in line with the development of eLearning
Enhance students' reading interest and cultivate reading culture using IT in education
Enable schools to promote reading in campus with minimal administrative resources
Cultivate self-directed learning habit using the cross-platform, multi-functional eBook reader EdBookShelf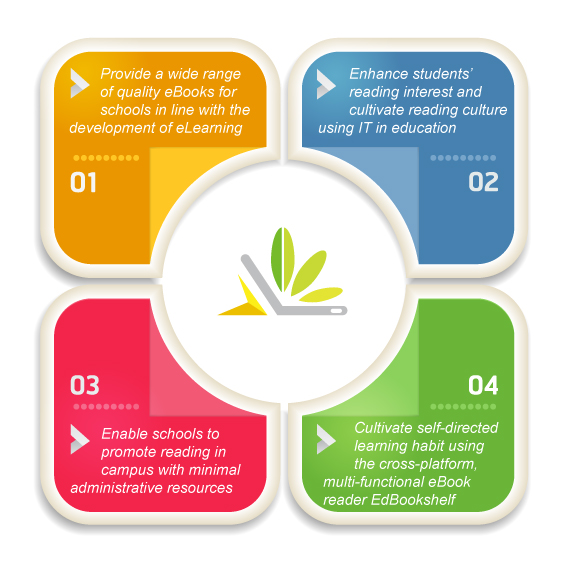 Start reading...
All the eBooks are accessible to major web browsers (including browsers for Android, iOS and Windows) through the 'EdBookShelf' or 'EdBookShelf' Apps for Tablets. Teachers and students from the participating schools enjoy unlimited access to the eBooks by simply logging in with their EdCity accounts, anywhere, any time.
Please visit About EdBookShelf for user guide and demonstration video.
Download "EdBookShelf" Apps