'The book is a film that takes place in the mind of the reader.' – Paulo Coelho. When films are made based on novels, there are always different opinions about the rearrangement no matter how tiny the change is. Readers can always have their own interpretation and imagination on each sentence they read; meanwhile, in the cinema movie viewers share a collective experience when they watch the same scene. So there ought to be some discrepancies between how the director put together a film and how the readers imagined it would become. Let's see if it is true what the famous author Stephen King said, 'Books and movies are like apples and oranges. They both are fruit, but taste completely different.'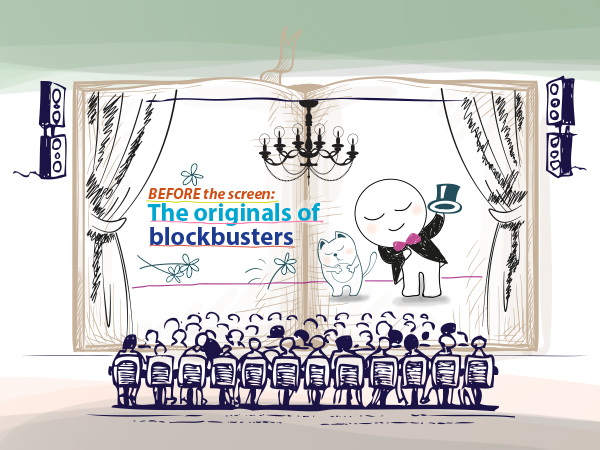 the Great Gatsby
managed to enrich readers' imagination by turning the descriptive sentences from the book into stunning scenes with all the visual elements to illustrate the extravagant life and energetic parties of the upper class. Do you think the cinematic adaptation is able to meet your expectation?
the Hobbit
(and its world-famous sequel,
the Lord of the Rings
) would surely come to one's mind.
The Hobbit
tells the adventure of a timid and reserved hobbit, Bilbo Baggins, who wants nothing but to relax in his cosy home and live a calm and peaceful life. The hobbit is recruited by the dwarves and soon reluctantly joins their expedition. Being dragged into this noble yet challenging quest to reclaim the dwarves' homeland, Bilbo must resolve the conflicts among dwarves, elves and men, while fighting against his inner demon brought by
the Ring
– the most powerful artefact in Middle-earth.
the Maze Runner
. In the world devastated by a series of massive solar flares, survivors need to find a way to live in the post-apocalyptic world. In the first two books of the series, we have seen Thomas desperately running from the world being controlled by WICKED, an organisation which is supposed to find a cure for the world but has somehow become unscrupulous. In the third book, Thomas is taking the initiative and attacks the headquarter of WICKED to solve the problem once and for all.
the Complete Sherlock Holmes
, including classic mysteries
A Study in Scarlet
and
the Hound of the Baskervilles
. Among all the versions of Sherlock Holmes, which one do you like best?
關鍵字詞: 青少年主題書單|Themed booklist|Movie|F. Scott Fitzgerald|J. R. R. Tolkien|James Dashner|Sir Arthur Conan Doyle